Live translation: Furniture Factory DREMA Kids 2023
During this year's International Fair of Machinery and Tools for the Woodworking and Furniture Industry, DREMA (September 12-15, 2023), there will be a live furniture production demonstration under the theme "DREMA FOR CHILDREN" for Ukraine. This is a charitable initiative organized by the Association of Manufacturers of Machinery, Equipment, and Tools for Wood Processing (DROMA), the Faculty of Forestry and Wood Technology at the University of Life Sciences in Poznań, and the MTP Group. In the 2023 edition, the organizational support for this initiative is provided by the Association of Producers of Wood-Based Panels in Poland.
The aim of the event is to showcase the latest furniture production technologies using automated and robotized processes, presented on an area of approximately 2000 square meters made available by the MTP Group. The technological patronage for the event is provided by the Furniture Design Department of the University of Life Sciences in Poznań and ITTeam ENGINEERING, a technology integrator for the furniture industry. The production plan for automated and robotized technologies includes the manufacture of:
120 units of cabinets/low shelves with two shelves,
100 units of beds with 90x200 mattresses (upholstered and non-upholstered versions),
20 sets of children's room furniture (wardrobe, desk, bed with 80x160 mattress),
20 sets of youth room furniture (wardrobe, desk, shelves, bed with 90x200 mattresses),
20 sets of sensory furniture fronts for the youngest as part of the "KidsLikeUs" grant,
And other furniture representing the creative work of students from the Faculty of Forestry and Wood Technology in the Furniture Design program at the University of Life Sciences in Poznań.
For the youngest attendees, there will be a sensory set designed in accordance with the developmental psychology of young children, featuring material textures, shapes, animals, and a treasure chest.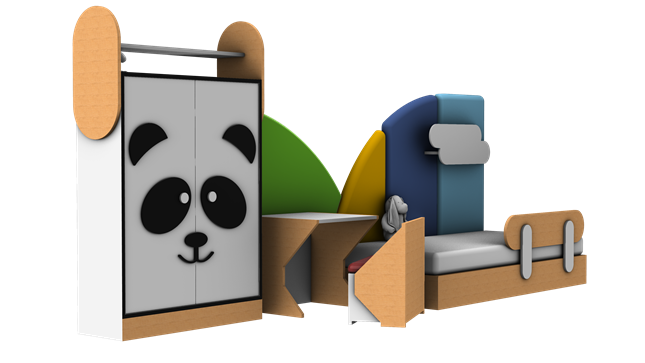 For the older attendees, there will be a Tetris-inspired design with a touch of privacy, allowing for independent room arrangement. This means that each piece of furniture in every room can be unique and one-of-a-kind.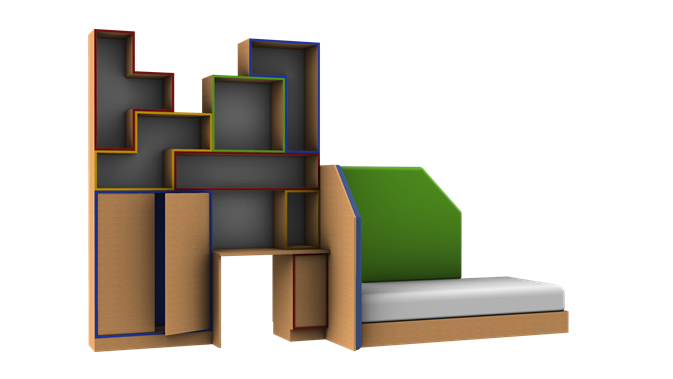 The furniture produced during the live event will be partially donated to Ukrainian children in selected Children's Homes. A portion of the furniture will also be allocated to a Polish youth center, specifically the Łobżenica Education Center. The residents of this center will visit the Live Furniture Factory for a one-day, hands-on experience in furniture production. The charitable goal of the DREMA FOR CHILDREN 2023 initiative is supported by the Tak Po Prostu Foundation from Poznań.
Due to the transportation of the produced furniture, most components and elements will be appropriately packed in boxes prepared on the premises of the demonstration factory.
This year's edition of DREMA FOR CHILDREN is also supported by the international KidsLikeUs project, co-financed by the INTERREG Baltic Sea Region Programme. As part of this project, special sensory fronts have been created, which will not only adorn the furniture produced during the event but also allow children to touch stars and move planets. In addition to their educational function, sensory furniture fronts have calming effects, stimulate curiosity, develop motor skills, and ignite the imagination of young furniture users. The project, developed in collaboration with Lab150, will be tested in three Baltic Sea Region countries and then made available for free to all those interested in supporting children's development through sensory design.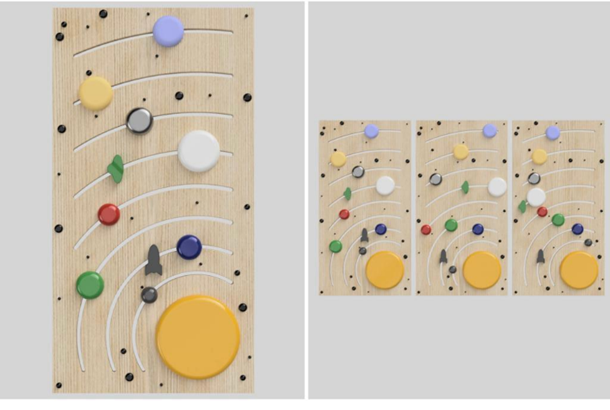 DREMA FOR CHILDREN is not just a promotional activity for partners during the MTP DREMA trade fair. The live furniture production is a practical skills platform for students and, above all, a noble cause.
The following companies have joined the Drema For Children event:
ABRASIVES GROUP, ALLCOMP, AROTECH, BIZEA, BLANCHON POLSKA, CIRANOVA TECH, FABRYKA MEBLI BENIX KACZOROWSCY, FDM FABRYKA DOBRYCH MATERACY, FIDE, FILTROWENT INTERNATIONAL, FOREST GORLICE, GRUPA PAGED, HÄFELE POLSKA, HOMAG GROUP, HOMANIT KROSNO ODRZAŃSKIE, IDŹCZAK MEBLE, INFOTEC CNC, ITA TOOLS, ITTEAM ENGINEERING, JOWAT POLSKA, KAWASAKI, LAB150, LAM STOLARNIA, LIVELLO SOFA, MG MACHINES, NAWARA SERWIS, NOWIGO, N-POL, OPAKOMAT, PFLEIDERER POLSKA, RAMARO, REHAU, REMA, RFID POLSKA GRUPA PWSK, SWISS KRONO, TOP SOLUTIONS, VIRUTEX, ZAKŁAD PRODUKCYJNO-USŁUGOWO-HANDLOWY "OSKA", arch. Małgorzata Grotowska sustainable designer - Okoń Parkiety Pałacowe,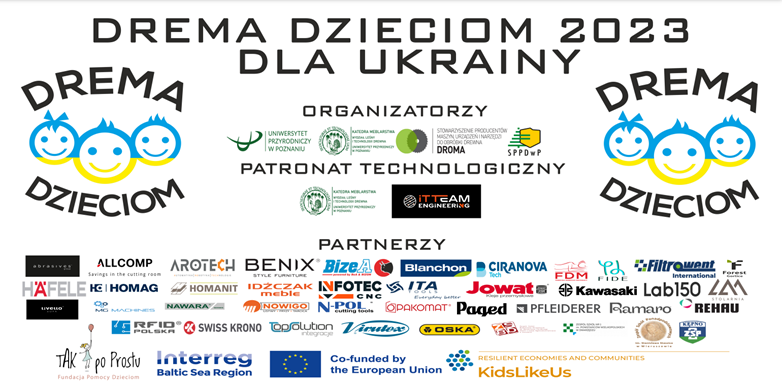 and:
Fundacja Pomocy Dzieciom Tak po Prostu, Zespół Szkół Budowlano Drzewnych im. Bolesława Chrobrego w Poznaniu, Zespół Szkół nr 1 im. Powstańców Wielkopolskich w Swarzędzu, Zespół Szkół Ponadpodstawowych im. Stanisława Staszica w Wieruszowie, Zespół Szkół Ponadpodstawowych nr 2 w Kępnie, Młodzieżowy Ośrodek Wychowawczy w Łobżenicy.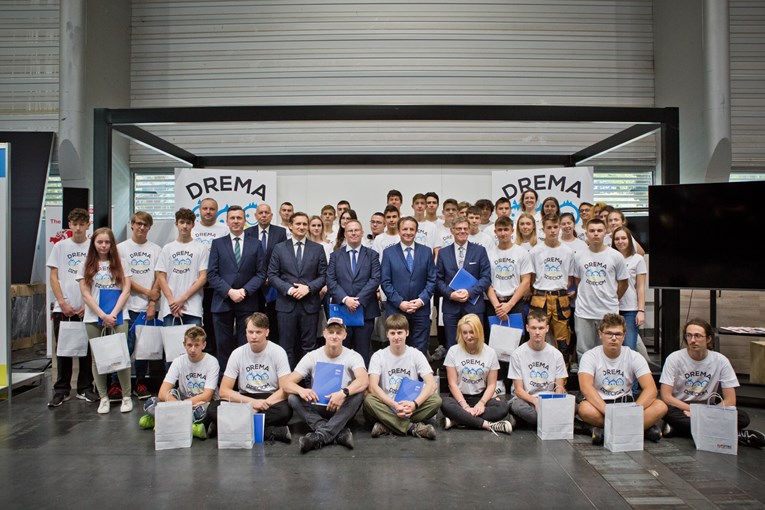 The International Fair of Machinery, Tools, and Components for the Woodworking and Furniture Industry, DREMA, will take place from September 12 to 15, 2023, at the Poznań International Fairgrounds. We cordially invite you to join us!
___________________________________________________________

Drema for Children is our 4th edition.
As part of this event, we design and make furniture for children, this time we would like to implement the NEB values of sustainability, beautiful and together. We bring the NEB values to design and art students, who design and make furniture under the supervision of architects and manufacturers. The products are later donated to Ukranian orphanages as a charity.